A BSOD error 0x00000023 usually occurs because of a read error of FAT16 or FAT32 file system partitions, and a 0x00000024 error is, most often, due to an error in the NTFS.sys file (the role of the driver is to allow the system to read and write files in a NTFS file system partition).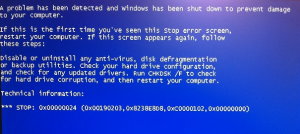 Error 0x00000024 usually occurs on Windows XP. But it also can appear on Windows Vista or Windows 7.
If an error 0x00000024 occurs, you can first try to reboot your computer. If the problem still exists after rebooting, you need to apply one of the following solutions to fix the 0x00000024 error.
Solution 1: Use your Windows installation CD/DVD to run chkdsk /f for system driver C:.
(If you do not have a Windows installation CD/DVD, OR, if you do not know the administrator password, please skip to Solution 2)
If your system is Windows XP, you need to reboot your broken computer from a Windows XP installation CD.
If your system is Windows 7, you need to reboot your damaged computer from a Windows 7 installation DVD.
After rebooting from the Windows installation CD/DVD, select the correct Windows installation volume to tell the CD/DVD which volume you want to fix.
Then, you need to input the administrator password in order to log on the Windows system that you want to repair.
As a final step, use input Chkdsk C: /f to check and fix the errors on your computer's system volume.
Solution 2: Use Lazesoft Recovery Suite boot disk to quickly fix the error 0x00000024
It is good news for home users, because Lazesoft Recovery Suite Home Edition is free for home users. Lazesoft Recovery Suite can fix errors for Windows XP, Vista, 7, 8 32 bit and 64 bit.
Download the newest version of the Lazesoft Recovery Suite.
Install and run it, then click <Burn CD/USB disk> to burn a Lazesoft boot disk.
Rebooting your damaged computer from the new burned Lazesoft boot disk.
Choose <Windows Recovery> module on the boot disk.
Select the Windows installation to fix.
Click <BootCrash> tab and then click <Run Chkdsk> to check and fix all your volumes.